My 150 Favorite Films - #7
The Hot Rock (1972)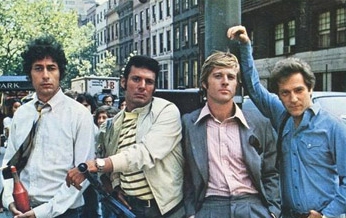 The Hot Rock
is another one of those quirky caper films that I love, that I often wonder, "why don't more people know about this film?" Blessed with a splendiferous, testosterone-fueled cast, including
Robert Redford
,
George Segal
,
Ron Liebman
, all in their prime,
The Hot Rock
revolves around a plot to steal, or "liberate" a gem from the Brooklyn Museum. In short order everything that could go wrong does, and the plot quickly devolves. Worth seeing just for the cast alone, let alone the sublimely witty screenplay by
William Goldman
, based on a novel by
Donald E. Westlake
.